Into the Blizzard, on to Soya Misaki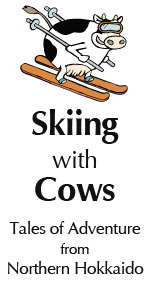 In the fading twilight a blackness could be seen stretching out before us on the horizon. It wasn't the night but it may as well have been. Steadily climbing north along highway 238, a two lane road that hugs the Okhotsk coastline from Abashiri to Wakkanai, though the light was dim, we could still yet see clearly enough that if we continued our present course the land would abruptly disappear.
It was a giant winter storm, one enormous cloud stretching from the ground to the roof of the sky. Somewhere inside it was our destination, the monument marking the northernmost point of Japan. Our guests, who had made the nearly 14 hour journey to visit us from Shizuoka prefecture, were determined not to let some puny snowfall get in the way of them making the last little push north. And so, although not a speck of light could penetrate into the storm, we, it was decided, would.
Luckily for us the wind was blowing so hard that the snow had no opportunity to actually accumulate on the road. In fact, at times I was confused if the snow was really falling from the sky or being sucked back up into it. Above us the big, flashing arrows denoting the edge of the highway shoulder were our guides as visibility wavered frantically back and forth between 10 meters and nothing. Despite all this, the few other drivers that happened upon us wasted no opportunity to pass. For apparently there is no such thing as too fast in Hokkaido, even in a whiteout.
At last we reached the barely-discernible turn-off, and I slammed the car through a barrier of freshly plowed snow and into a lighted parking lot. Around us stood a small collection of run-down and depressing looking souvenir and ramen shops. Note I do not say that they are old. In fact, in a way I find completely opposite to that of Californians, age in this particular spot of Hokkaido is difficult to judge. After all, when you live in a place where every season of the year you are subjected to gale force arctic winds, man or building, it's not easy to look perky.
Now, with the full brunt of the storm upon us, all the stores were shut up and dark and nothing living seemed to stir. One might suspect that we would be the only ones crazy enough to stop here on such a night. But there was another car parked. Where the occupants were or what they were doing, we couldn't say. There was a public restroom lit up and visible in the midst of the blizzard, but as my comrades and I agreed, it was probably better to soil one's pants than remove them in weather like that. At this sound logic we abandoned our search, disinterested in imperiling our lives by standing there considering it any further, and hastily rushed over to the monument for our picture.
Our attempts at photography were terribly amusing. After half a dozen shots taken in blinding snow of people unwilling to expose their faces to the frozen wind, we succeeded in capturing a fine set of completely incomprehensible images. Beyond the monument, the Okhotsk, black and boiling, flickered here and there as the spot lights reflected off giant bobbing chunks of drift ice. Fascinated, as we all are, by things simultaneously dangerous and beautiful, I was inwardly compelled to get a closer view. Scrambling around to the back of the monument over the icy rocks that form the break, I precariously stood with eyes transfixed. There is something fatally seductive about the sea at night. And into this sparkling abyss of darkness my gaze lingered until the pain of cold reminded me that, like Frost, I too still had some distance yet to go this evening.
(This column is the first in a 2-part series. Click here to read part 2.)