Explorer's Journal: Kotoni-Hassamu Riverside Walk
Those who live in the vicinity of the Kotoni-Hassamu River probably already know about its great walking and cycling path, which occasionally opens up into fully developed parks with benches and playgrounds and open green space. But for everyone else: if you find yourself on Sapporo's western front, a nature-filled journey is highly recommended.
From the Toazai subway line, you can access the river from nearby stations Kotoni or Hassamu-Minami. JR Kotoni provides easy access as well. Once on the path, set your course: roughly northwest toward the Sea of Japan or just as roughly southwest toward the mountains. The path offers great views, open space, and recreation for children in the parks and down on the riverside itself (it's a fairly small river, but it can swell up at times, so watch the little ones closely).
I've only explored the mountain-bound path, heading about 3 km in from the Kotoni area to the Yamakko Bridge (山子橋/yamakkobashi). From here you can keep going along the river for many more kilometers, according to a nice man walking his dog last week. We had to stop and head back home, as the sun was fading, temperatures were dropping, and our 8-month-old was along for the trip.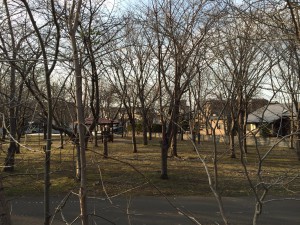 With warmer weather on the horizon, I should note that the riverbed areas make fine barbecue spots, though open flames are no-go in the official park areas. When the cherry blossom front finally reaches Hokkaido in a couple of weeks, look out for some colorful surroundings along the path as well.
I'm prepping my Kotoni-Hassamu-cherry-blossom-walkathon-barbecue-extravaganza as I type this very sentence. Consider this your invitation. I just may be somewhere along the river most warm weekend afternoons until the first snow.
Google Map:
The river crossing the center area of the map is the Kotoni-Hassamu. Some of the larger park areas are shown on the map, but many smaller ones are left to be stumbled upon.