Onsen with a baby? Family sento is a good compromise
At home, the baby's daily bath is a chore, though sometimes a fun one if our 11-month-old is in a good mood. Fun or not, it's a task that must be done, with one parent taking him in the bath and the other picking up and getting him re-diapered and re-dressed. So how about a trip to the onsen or sento?
Sounds good, but going to such a facility with small children can be a bit of a hurdle. Taking care of a baby at a public bath while not causing a nuisance to your fellow bathers is no easy task.
This is why we searched for a place with private bathing rooms, meaning mom, dad and baby Eugene could all share the experience together.
We settled on the Shinrin Koen Onsen Kiyora in Atsubetsu ward, which in addition to a natural hot spring offers sento-style family bath rooms with spacious changing rooms, pre-wash shower rooms, and bath tubs big enough to stretch your legs (but don't drop the baby).
The facilities were clean, spacious and easy to use. After parking the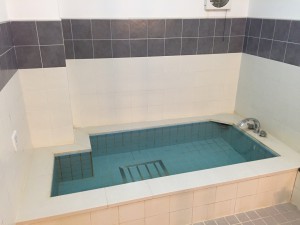 car, we headed to the special family bath entrance on the side of the building.
At the front desk, the staff pointed us to a ticket vending machine where we selected the plan for two adults coming in a ¥1,900 (children up to 5 years old are free). The price covers 90 minutes in the bath (reduced to 60 minutes on weekends and holidays). Among the many other perks: shampoo, conditioner, body soap, a body towel and a face towel, with other baby-centric options available upon request.  A final bonus: An air conditioner in the changing room, offering a quick cool-down as you get dressed.
Our standard room offered plenty of space for the three of us, but a family with three kids in toe that entered as we were exiting opted for a deluxe room with an larger bath (this costs a bit extra of course).
Baby Eugene seemed to enjoy himself too, with enough space to crawl around the shower area and the changing room. Mom and dad played "pass the baby" so we could each enjoy some full-on relaxing time in the tub.
An hour later, the whole family had finished their evening baths, but it didn't feel like a a chore at all. For those with busy schedules and little children, the Japanese family bath is a great call.
Shinrinkoen Onsen Kiyora | 森林公園温泉きよら
Official website: http://www.onsen-kiyora.com/
Access: See official site. The best access is by car and the facility features a spacious parking lot.
Map: