by Shawn Clankie
Historically, Highway 12 was the main route for drivers traveling between Sapporo and Asahikawa, Hokkaido's two largest cities. Today, many people choose to take the expressway, missing out on both the history and charm of villages in between. While almost every town along a major highway has a
Michi no Eki
, the Japanese equivalent of a farmers market/rest area, Sunagawa has gone a step further, they have designated their section of Highway 12 as the Sunagawa Sweet Road.
Sunagawa has a large number of cake and pastry shops along and near Highway 12 and are now marketing them as a whole as the place in Hokkaido to get your sugar fix. The center, and most well-known of the sweets shops in Sunagawa, is Kitakaro. This is most visitors' first stop. With both a store and a café, busloads of tourists stop to load up on a variety of sweets. In the café, the cake set with two kinds of cake, ice cream and a coffee for 617 yen is a bargain that will leave you needing a nap. For lighter eaters, buy a box of the
Yume Kirara Kurogoma-dare mochi
, a liquid black sesame filled mochi ball. They are delicious. If that's not enough for you, next door is Hori, the maker of melon jelly, and a little further up the road is the Honda sweets shop, specializing in fresh apple pie. And the list goes on and on. In total, there are at least ten sweets shops that make up the Sunagawa Sweets Road, more than any one person can likely eat in a day. Once you knock a couple shops of your list, you can keep coming back to try the others, a great way of marketing the town and getting people to come back. The Sunagawa Sweet Road is one town's attempt to get local businesses to work together to encourage visitors to stop. The next time you get a craving for something sweet, head to Sunagawa. Your waistline may regret it, but your stomach will be thanking you. 
http://sunagawa-sweetroad.com/sweetroad/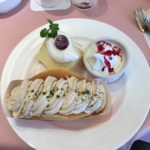 Shawn Clankie is originally from Rockton, Illinois and has been living in Sapporo since 1999.  A trained photographer and writer, he has written widely over the past 30 years, including travel pieces for everything from local newspapers up to Time magazine, in addition to writing more than 30 ELT textbooks. He is also professor of applied linguistics at Otaru University of Commerce and the former head of the English section. When not working, he is usually traveling or trying out a new restaurant.