A first timers trip to Hokkaido's southern most city: Hakodate pt: 1
During the last Golden week we headed down to Hakodate for a long anticipated vacation. However, for one of us, whom was their first time to the city, it was nothing like they expected.
Waking up a little groggy and hungover on the first morning of Golden week vacation, but excited to get to our holiday destination, the famous port city of Hakodate. We had a lot to look forward and not a moment to spare as we got a lift to the bus terminal. Next stop New Chitose airport. What you may not know is that the buses cost a little less than a train ride and if departing from Oyachi bus terminal would arrive sooner than airport express train. If you're heading back from where you came you can save more by purchasing a return ticket.
After arriving at the airport we quickly checked in then grabbed a coffee before moving through to the departure lounge. The flight is only a very short one. Some 40 minutes to Hakodate international airport. Seats were quite small, but the flight was comfortable. Made even more by our Bose noise cancelling headphones. They come in real handy if your plane is a propeller engined one which ours was. Next stop Hakodate!
After arriving we boarded an express bus bound for Hakodate JR station. Oneway cost around ¥460. Sorry, forgot to take a photo. With our hotel being on the way to the station it was easy to get off at a station close by and then walk the rest of the way to the hotel. Our hotel room was a
very modest sized room with a semi-double bed, but we decided to spend a lot of money on food and drink. First stop was the burger shop "Lucky Pierrot".
Lucky Pierrot
Lucky Pierrot is a famous burger chain with more than a dozen locations around Hakodate. Unlike other famous Japanese chain restaurants this one is ONLY in Hakodate and no where else.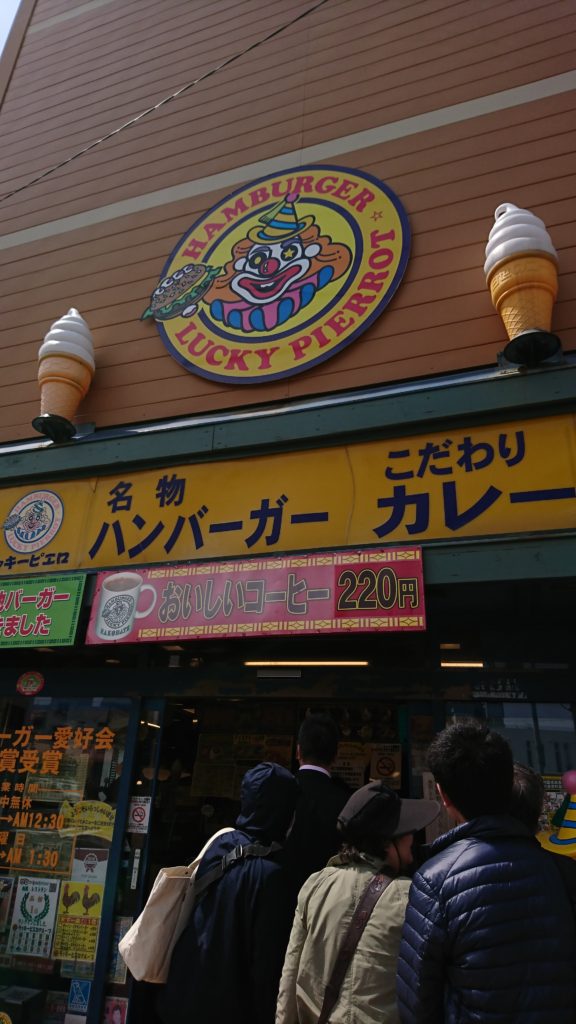 I didn't really like it. However, my travel companion loved it. I found that the burger lacked any real taste and the burger was cold. We also needed to wait in line for more than an hour and they only serve American beer, Budweiser. However a friend of ours begged me to reconsider. As it was a very busy travel period throughout Japan most shops would be working over capacity. So, a few days later I went to another, less busier shop and tried it again. And I still didn't like it! However, the vanilla shake and the staff were lovely. You may as well give it a try. It's a Hakodate institution and doesn't cost more than a few bucks.
After taking a rest at our hotel we decided to head on up to Hakodate mountain to take in the twilight view of the city where you can see both sides of the peninsula. From Hakodate station it's only about a 30 minute bus ride to the summit. If you're doing a lot of bus and street car travel while you're in town we recommend you purchase a unlimited commuter pass. We purchased a 2 day one.
When we got to the summit though. Boy! We were in for a real shock!
There were so many people! Hundreds upon hundreds of tourists were here taking pictures! It was a real shock. To get a decent view you had to elbow your way through the crowd. We weren't game. Too many rude tourists who were there to gain notoriety on their social media accounts than to enjoy a view (This writer's opinion). Best come in the less busier times of the year! After this we boarded a dangerously overcrowded bus back to town to chill out for the next days activities.
Too be continued…